Finding Clips on U.S. Government Sites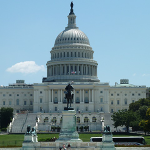 The U.S. Government is a huge resource for media clips of all types. Almost all materials produced by the federal government are in the public domain. The only major exception would be a small number of films produced for the government by outside producers. Also, be aware that any persons depicted in films or images probably have privacy rights and thus using those to promote products or services or in a derogatory way is likely prohibited. Also the logos of various agencies are protected by trademark and may not be used in a way that would imply endorsement or involvement of the agency in your production. Make sure you check these permissions on the website that has the clips you wish to use.
Many agencies are trying to provide better access to online clips, and the locations often change. I compiled a list of links to media clips available online from the government several years ago and most of those links are no longer valid since many of the online archives are in a state of flux, so it is good to have a search strategy if you want to access some of the lesser known locations.
We have the major sources listed on this site, but there are probably many more, and new ones appear each week. Here's some places you may want to search with Google or the other  search engines.
NASA  has a vast number of clips online. In addition to the archives, you may want to search by facility or by the specific mission. For example, each satellite launched usually has its own website and most of these sites have a gallery of images and video clips. Many of these sites will have animations of the satellite available before launch.
The U.S. Military has many resources online and you may want to search by the branch of the military or by specific military bases.
The Library of Congress and the National Archives have very large collections of media and some of them are available online. If you need items that aren't available online, the sites give information on how to obtain some of these items. Be aware that since much material here is from outside collections that have been donated, some items may still be subject to copyright, and it is your responsibility to determine usage rights. Images and other media that are believed to be in the public domain are marked accordingly.
NOAA, the USDA and CDC and many other government agencies all have collections available. The US Forest Service and National Park service also have some great images and video clips. Searching beyond the links provided here will be worth the effort.